Iceland 2017 - flight videos IV.     The fourth aerial video from Iceland shows you for instance flight over fthe amous Gulfoss waterfall and Geysir.

Flying Iceland 2017, Part 4 - Vik, Mýrdalsjökull glacier, Gullfoss waterfall, Geysir, Reykjavik
The fourth video taken during a VFR flight over Iceland begins with a departure from Vik airfield the runway of which is covered by lava gravel. Seconds after také off we can see lava fields and glaciers. Then the video shows the impressive flow of Hvita river which leads up to the famous Gulfoss waterfall. Gulfoss waterfall is actually located next to the even more famous Geysir. The camera managed to capture Geysir at a moment when it was spitting hot water and vapour into the air. From Geysir I continued back to Reykjavik accross the breathtaking western part of Highland of Iceland.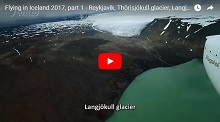 Flying Iceland 2017: Follow it here!
The next one which will be published on Friday March 23, 2018.
The opportunity for you: send to us your flight video from all over the world. We will publish it! Please, write to info@flying-revue.cz.
-fr-