Iceland 2017 - flight videos II.     The second aerial video from Iceland shows you our departure from Reykjavik and then our flight alongside the western part of South Coast.  

Flying Iceland 2017, Part 2 - Reykjavik, Eyrarbakki, Westman Islands
Low flight along a fishing village and a lava sand beach will give you a feeling of being in the aircraft cabin. Flying over and landing at Westman Islands documents how beautiful and exotic these northern islands are. Islands which went through a horific eruption of a volcanou in January 1973 which is still visible at some places..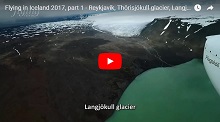 Flying Iceland 2017: Follow it here!
The next one which will be published on Thursday March 9, 2018
The opportunity for you: send to us your flight video from all over the world. We will publish it! Please, write to info@flying-revue.cz.
-fr-