Iceland 2017 - flight videos V.     The fifth aerial video from Iceland shows you for instance flight over the Jules Verne´s entrance into the centre of the Earth.  

Flying Iceland 2017, Part 5 - Reykjavik, Snaefellsjökull, Kirkjufell, Langjokull, Einiholtsmelar. (c) Flying Revue 2018
Our fifth video showing Iceland from the air will take you from Reykjavik alngoside the West coast of Iceland up to Snaefellsjokull volcano. Its crater was actually picked by Jules Verne as the entrance into the centre of the Earth. The flight then continues over the Snaefellsnes penninsula. Then to the glaciers of Iceland Highlands and from there to the airfield of Einihotsmelar.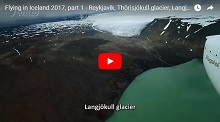 Flying Iceland 2017: Follow it here!
The next one which will be published on Friday March 30, 2018.
The opportunity for you: send to us your flight video from all over the world. We will publish it! Please, write to info@flying-revue.cz.
-fr-