Iceland 2017 - flight videos I.     Today we are starting a new series of videos showing Iceland from above. We rented the C172 from a local flight school at Reykjavik.

Island 2017, video 1
However, the condition was that we could not rent it for more than 4 hours a day. This on one hand limited somewhat our range but at the same time it gave us the opportunity to explore the beautiful western Iceland more deeply.
Today´s video will show you our first flight from Reykjavik towards the East – over the Iceland highlands. It is a beautifuly wild area in which lava fields, glaciers and wild looking rocks alternate as you fly along. Traces of civilization can mostly be seen only in the coastal areas. We trust you will find the first video from Iceland of interest and that you will return to our website to see the next one which will be published on Thursday March 1.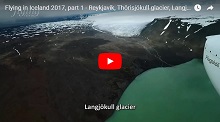 Flying Island 2017: Follow it here!
The next one which will be published on Thursday March 1, 2018
The opportunity for you: send to us your flight video from all over the world. We will publish it! Please, write to info@flying-revue.cz.
-fr-