Flight videos, Aéropostale 2017 I.    First video from the Rallye Toulouse-Saint Louise - Aéropostale 2017 expedition. Today flight from Malaga to the desert airport Cap Juby. 

Aéropostale 2017, part 1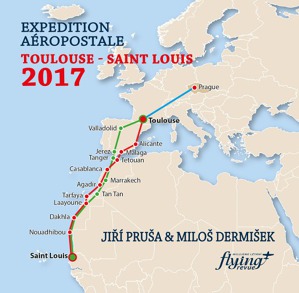 Vše o expedici: Klikněte na obrázek
The routing of Aéropostale rallye changes a little bit every year. The one we flew in September/October 2017 led us from Toulouse to Malaga and then to Tetouan in Marocco. From there it continued via Casablanca to Agadir and to the desert airfield of Cap Juby, the director of which was in 1927/28 no one else than Antoine de Saint Exupéry.
The hop from Malaga to Tetouan takes a bit over an hour. On the way you can see the Rock of Gibraltar, the Strait of Gibraltar and the Spanish exclave of Ceuta which is located on African soil. We flew over Morrocco up to Agadir in a bit of a haze so the usable video footage from that part of the rally is only limited.
What is well documented and what was very interesting was the low flight alongside the high cliffs of the coast of Sahara which lasted a lot of hours. All this you can see in Part 1 of our video series taken during Rallye Aéropostale 2017. The next part will follow in a week. 
-fr-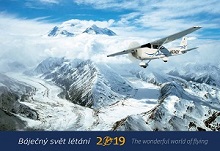 Wonderful world of flying 2019 - the calendar of aerial views on Earth. Alaska, USA, Australia, Europe ... all shot from the sky from a small plane.
You can buy it at e-shopu Flying Revue. Click here.