Flight videos Aéropostale 2017 III.   The third video from the Rallye Toulouse-Saint Louise - Aéropostale 2017 expedition. Today you can follow flight from Laayoune do Saint Louis. 

Aéropostale 2017, part 2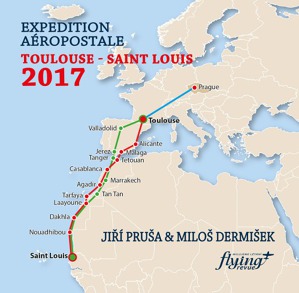 All about Aéropostale 2017 Expedition: click on the picture.
We left Laayoune immediately after refuelling and filing the flight plan. The flight to Dakhla took some three hours over the coast of Sahara. Dakhla is located in the territory of the defunct republic of Western Sahara but it is governed by Morocco so it is a well maintained city and airport. Avgas, accommodation etc. is available there without any problem.
We stayed at Dakhla for one night and the whole group of 25 Aérpostale 2017 aircraft continued to Saint Louis in Senegal. The flight from Dakhla to Saint Louis took over 5 hours during which we had to battle a sand storm over Mauritania.
We only had a road map of Mauritania but flying along the coast did not give us a chance to get lost. The airport of Saint Louis is located just after the river Senegal which forms the border between Mauritania and Senegal. It is clear that Saint Louis was once an attractive colonial city.
You can see in our video some shots of Saint Louis from the air which show you also the hotel De La Poste that was once the headquarters of Aéropostale in Senegal. 
-fr-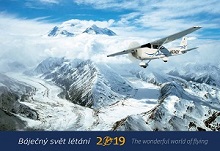 Wonderful world of flying 2019 - the calendar of aerial views on Earth. Alaska, USA, Australia, Europe ... all shot from the sky from a small plane.
You can buy it at e-shopu Flying Revue. Click here.