Flight videos Aéropostale 2017 II.   The second video from the Rallye Toulouse-Saint Louise - Aéropostale 2017 expedition. Today you can follow flight from Cap Juby to Laayoune. 

Aéropostale 2017, part 2
We woke up in tents next to our sandy runway at Cap Juby – Tarfaya.  All the pilots received the tasks they had to complete this day as part of the rally competition. There were two tasks for this flight – first was to define the angle between to arrows placed somewhere on the beach in the direction of our flight. The second was a precision landing on runway 04 at the airport of Laayoune where we were also promised a fuel supply.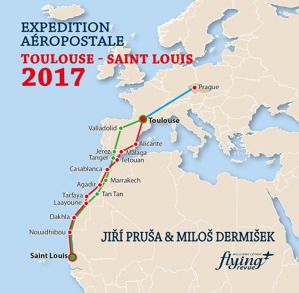 Vše o expedici: Klikněte na obrázek
We took off as one of the last few remaining aircraft and overflew the runway in a climbing right semi-circle. We found the arrows and did our best to estimate the angle between them. Then we continued over a lot of sand of the Sahara and a large salt lake.
On approach to Laayoune airport we had to make the correct choice of runways – there are runways 02 (military) and 04 (civil) next to each other and we were cautioned very strictly to avoid the military 02. Just past the threshold of the runway, were the referees measuring the precision of each aircraft´s landing. We did a bit better on the landing than estimating the angle between the arrows.
On arriving to the stand a group of uniformed guys swarmed up around our airplane giving us worries that we would get into trouble because of our under-the-wing cameras. No one noticed these, however, so when time was right I managed to remove them without any trouble. From Laayoune and after refuelling, all the aircraft and crews continued to Dakhla which is located some 3 hours of flight to the South.  
-fr-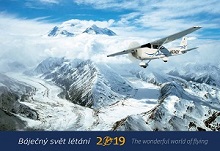 Wonderful world of flying 2019 - the calendar of aerial views on Earth. Alaska, USA, Australia, Europe ... all shot from the sky from a small plane.
You can buy it at e-shopu Flying Revue. Click here.