Unusual landings 9.      The ninth video from the new Unusual landings video series shows landing at Catalina Airport at Santa Catalina Island nera L.A., U.S.A.

USA, Santa Catalina - Landing and Take off
Plane: Cessna 182
Crew: Jan Čermák, Jiří Pruša
When:  U.S.A. 2016 Expedition
We were approaching Santa Catalina Island from the San Diego coast. There are 600 meters high rocks on this island and the cold sea here creates the conditions for low clouds. Northern half of the island was a little better weather, so we suddenly saw an airport that looks more like one of the French Alpine Altiport - quite steeply rising trajectory lying on one of the highest peaks of the island.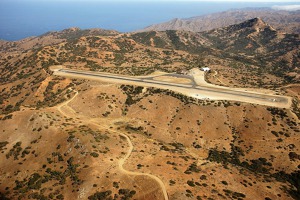 Landing to the ranwey 22 was unusually - first we flew 800 meters above the visible sea level below us. Within a few seconds, this height changed to some 100 meters of AGL over the steep rocks. The landing was turbulent, but we have managed everything.
After half an hour of rest we departured to the next part of our flight.