Take offs and landings 35: Venice - Lido, Nicelli Airport, Italy      The thirty fifth video from the Take offs and landings videoseries shows landing on Bolzano Airport, Italy, Europe. 

Italy, Venezia Lido LIPV - Take off
Venice-Lido Airport (LIPV) -  take off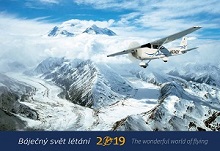 Wonderful world of flying 2019 - the calendar of aerial views on Earth. Alaska, USA, Australia, Europe ... all shot from the sky from a small plane.
You can buy it at e-shopu Flying Revue. Click here.

The airport of Venezia-Lido gives you an exotic feeling – it is located by the sea, its terminal is and art deco beauty and you can well see the city of Venice when flying the airport circuit. The landing fees are moderate, Avgas is available and you can refresh youreself at a pleasant airport snack bar and restaurant. Within 20 minutes you get by boat to the heart of Venice.
The airport originally served air transportation to/from Venice but today it only serves general aviation. This is, of course, great. Lido is an uncontrolled airport with a professional information service. Its runway 05/23 is grass and finishes on the sea coast. Our video shows a departure from runway 05.
After leaving the circuit the pilot is usually handed over to the APP Venice Tessera airport air traffic controller. Then you usually get instruction to follow the coast at 1000 or 1500 feet and over Caorle (east) or Chioggia (west) you are usually handed over to Padova Information. The low flight over the coast is attractive but keep in mind that there is usually VFR traffic in the opposite direction following the coast at the same altitude.
» Follow our other information for flying in Italy and visit our section Fly Europe.   
Take offs and landings video series    Our video series "Take offs and landings" will bring to you every Wednesday one video taken during a take off or landing during one of Flying Revue flight expeditions. Flying Revue expedition aircraft have landed already at more than 400 airports and airfields around the globe. For many reasons, not all our take offs and landings have been videoed. However, the number of videos which we have on file is permanently growing. So the new video series "Take offs and landings" is very well stocked. You can watch these videos free of charge either just for your interest or as part of preparations for your own flight to some of the airports shown in these series.

---
» Nicelli Airport LIPV, Venice, Italy, Europe
» SkyVector.com          » Current traffic FR24.com         » Website
Source: Maps.google.com
General Info:
Country
Italy
ICAO ID
LIPV
Time
UTC+1(+2DT)
Latitude
45° 25' 42.19" N
45.428387
Longitude
12° 23' 16.8" E
12.388
Elevation
13'ft / 4mMSL
Type
Civil
Runways:   
ID
(Click for details.)
Dimensions
Surface
05/23
1,062x60m
3,485x197ft
Grass 
Source: WorldAeroData.com
Take offs and Landings series: Follow it here!
The next video will be published on December 19, 2018.
The opportunity for you: send to us your flight video from all over the world. We will publish it! Please, write to info@flying-revue.cz.
-fr-