Take offs and landings 34: Bolzano Airport, Italy   The thirty fourth video from the Take offs and landings videoseries shows landing on Bolzano Airport, Italy, Europe. 

Italy, Bolzano LIPB - Landing 
Bolzano Airport (LGMT) -  landing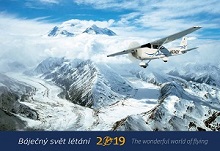 Wonderful world of flying 2019 - the calendar of aerial views on Earth. Alaska, USA, Australia, Europe ... all shot from the sky from a small plane.
You can buy it at e-shopu Flying Revue. Click here.

Bolzano is located in a beautiful Alpine valley not far from the famous skiing centre of Cortina d´Ampezzo. Even though the airport is capable of handling transport aircraft there is currently (2018) no scheduled traffic. The airport is, however, GA friendly and small aircraft are welcome here. Handling is not mandatory and the grass parking area seems to have capacity sufficient for busy summer days of flying. Air traffic control and other services are standard here. Avgas was available without any problem for my flight. However, I recommend that you check the Avgas availability before you decide to fly to Bolzano.
If you are arriving from the East or West then the airport runway 01/19 requests you to enter a downwind. This entry will give you the opportunity to admire the valley and the mountains in a similar way as I got it on my arrival. You can see the spectacular views on the video taken during the landing. I flew in from the West and joined right downwind for runway 19 which meant overflying the city and enjoying all the beutiful views. 
» Follow our other information for flying in Italy and visit our section Fly Europe.   
Take offs and landings video series    Our video series "Take offs and landings" will bring to you every Wednesday one video taken during a take off or landing during one of Flying Revue flight expeditions. Flying Revue expedition aircraft have landed already at more than 400 airports and airfields around the globe. For many reasons, not all our take offs and landings have been videoed. However, the number of videos which we have on file is permanently growing. So the new video series "Take offs and landings" is very well stocked. You can watch these videos free of charge either just for your interest or as part of preparations for your own flight to some of the airports shown in these series.

---
» Bolzano Airport LIPB, Italy, Europe
» SkyVector.com          » Current traffic FR24.com         » Website
Source: Maps.google.com
General Info:
Country
Italy
ICAO ID
LIPB
Time
UTC+1(+2DT)
Latitude
46.460194
46° 27' 36.70" N
Longitude
11.326383
011° 19' 34.98" E
Elevation
789 feet
240 meters
Type
Civil
Magnetic Variation
001° E (01/06)
Operating Agency
CIVIL GOVERNMENT, (LANDING FEES AND DIPLOMATIC CLEARANCE MAY BE REQUIRED)
Alternate Name
G SABELLI
Operating Hours
SEE REMARKS FOR OPERATING HOURS OR COMMUNICATIONS FOR POSSIBLE HOURS
International Clearance Status
Airport of Entry
Daylight Saving Time
Last Sunday in March to last Sunday in October
Communication:  
INFO
Opr 0430-2230Z++
120.6 
257.8
Runways:   
ID
(Click for details.)
Dimensions
Surface
PCN
ILS
01/19
4255 x 98 feet
1297 x 30 meters
ASPHALT
026FCWT
YES
01R/19L
2290 x 66 feet
698 x 20 meters
GRASS OR EARTH NOT GRADED OR ROLLED.
-
NO
Source: WorldAeroData.com
Take offs and Landings series: Follow it here!
The next video will be published on December 12, 2018.
The opportunity for you: send to us your flight video from all over the world. We will publish it! Please, write to info@flying-revue.cz.
-fr-