Take offs and landings 32: Dimitrios Vikelas Airport, Syros, Greece, Europe     The thirty second video from the Take offs and landings videoseries shows take off from Dimitrios Vikelas Airport, Syros island, Greece, Europe. 

Greece, Syros Dimitrios Vikelas LGSO - Departure 
Dimitrios Vikelas Airport (LGSO) -  take off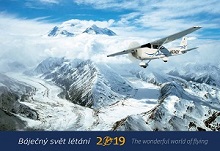 Wonderful world of flying 2019 - the calendar of aerial views on Earth. Alaska, USA, Australia, Europe ... all shot from the sky from a small plane.
You can buy it at e-shopu Flying Revue. Click here.

The island of Syros is a part of the Cyclades Islands located in the Aegean sea. The island is less known but at least as interesting as all the other popular Greek Islands – romantic harbour, historic city centre bu not as many tourists. And, of course, a pleasant little airport which is not very busy. The compulsory handling is limited here and therefore inexpensive. According to AIP, the airport does not provide fuel. However, if you are fine with the fuel from the local service station you can order it and within some 30 minutes a little truck will bring it to you to the apron. 
Departing from runway 18 you will get over the harbour and city centre from the downwind position. If you depart from runway 36 you get sort of catapulted over the harbour and the city straight from the runway which ends on a cliff overlooking the sea. I have landed on Syros three times and the services were always good and friendly. From Syros you can easily reach Athens TMA and negotiate with the controller the possibility to fly over the historic centre of the city. 
» Follow our other information for flying in Greece and visit our section Fly Europe.   
Take offs and landings video series Our new video series "Take offs and landings" will bring to you every Wednesday one video taken during a take off or landing during one of Flying Revue flight expeditions. Flying Revue expedition aircraft have landed already at more than 400 airports and airfields around the globe. For many reasons, not all our take offs and landings have been videoed. However, the number of videos which we have on file is permanently growing. So the new video series "Take offs and landings" is very well stocked. You can watch these videos free of charge either just for your interest or as part of preparations for your own flight to some of the airports shown in these series.

---
» Dimitrios Vikelas Airport LGSO, Syros, Greece, Europe
» SkyVector.com          » Currently traffic FR24.com         » Website
Source: Maps.google.com
General Info:
Country
Greece
ICAO ID
LGSO
Time
UTC+2(+3DT)
Latitude
37.422792
37° 25' 22.05" N
Longitude
24.950936
024° 57' 03.37" E
Elevation
236 feet
72 meters
Magnetic Variation
003° E (01/06)
Operating Agency
CIVIL GOVERNMENT, (LANDING FEES AND DIPLOMATIC CLEARANCE MAY BE REQUIRED)
Alternate Name
DIMITRIOS VIKELAS
Operating Hours
SEE REMARKS FOR OPERATING HOURS OR COMMUNICATIONS FOR POSSIBLE HOURS
Daylight Saving Time
Last Sunday in March to last Sunday in October
Communication:  
AFIS
118.85
RDO
5637 
2989 
(5637 Opr 0400-1700Z++) (2989 Opr 1700-0400Z++)
Runways:   
ID
(Click for details.)
Dimensions
Surface
PCN
ILS
18/36
3542 x 98 feet
1080 x 30 meters
ASPHALT
034FBXU
NO
Source: WorldAeroData.com
Take offs and Landings series: Follow it here!
The next video will be published on November 28, 2018.
The opportunity for you: send to us your flight video from all over the world. We will publish it! Please, write to info@flying-revue.cz.
-fr-