Take offs and landings 30: Rhodes international Airport, Greece, Europe       The thirty video from the Take offs and landings videoseries shows landing at Rhodes International Airport, Greece.

Greece, Rhodes Diagoras LGRP - Landing
Rhodes International Diagoras Airport (LGRP) -  landing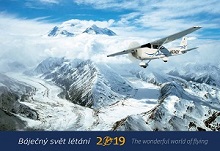 Wonderful world of flying 2019 - the calendar of aerial views on Earth. Alaska, USA, Australia, Europe ... all shot from the sky from a small plane.
You can buy it at e-shopu Flying Revue. Click here.

When flying over the islands you need to be ready to land in the wind – side wind, turbulent wind, weak or strong – any. The mornings are usually a bit quieter but very rarely there is no wind at all. Most of the Greek island airports require mandatory handling. If you are an AOPA member then the cost is about 25 EUR per landing. If you are not then the price is somewhere between 100 – 140 EUR. 
Especially in the Summer, Rhodos is a busy airport with a lot of charter flights. There is no requirement to apply for slots but during two of my three landings at this airport I had orbit for several minutes before I got permission to enter airport circuit at the base for runway 25. The centreline of runway 25/07 extends over the city and harbour so on departure I had wait some time for the TWR controller to be able to find a window within which I could spend some 5-10 minutes flying over the city to take pictures and videos of everything interesting.
» Follow our other information for flying in Greece and visit our section Fly Europe.  
Take offs and landings video series Our new video series "Take offs and landings" will bring to you every Wednesday one video taken during a take off or landing during one of Flying Revue flight expeditions. Flying Revue expedition aircraft have landed already at more than 400 airports and airfields around the globe. For many reasons, not all our take offs and landings have been videoed. However, the number of videos which we have on file is permanently growing. So the new video series "Take offs and landings" is very well stocked. You can watch these videos free of charge either just for your interest or as part of preparations for your own flight to some of the airports shown in these series.

---
» Rhodes International Diagoras Airport LGRP, Řecko, Evropa
» SkyVector.com          » Currently traffic FR24.com         » Website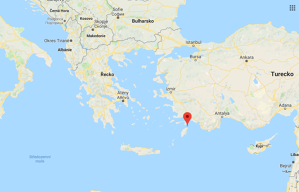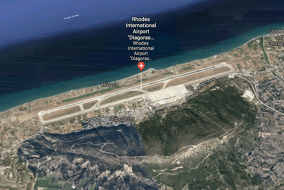 Source: Maps.google.com
General Info:
Country
Greece
ICAO ID
LGRP
Time
UTC+2(+3DT)
Latitude
36.405419
36° 24' 19.51" N
Longitude
28.086192
028° 05' 10.29" E
Elevation
17 feet
5 meters
Type
Civil
Magnetic Variation
003° E (01/06)
Beacon
Yes
Operating Agency
CIVIL GOVERNMENT, (LANDING FEES AND DIPLOMATIC CLEARANCE MAY BE REQUIRED)
Near City
Rodos
Operating Hours
24 HOUR OPERATIONS
International Clearance Status
Airport of Entry
Daylight Saving Time
Last Sunday in March to last Sunday in October
Communication:  
TWR
118.2 
122.1 
257.8 
381.0
GND
121.7
ATIS
Opr 0500-2000Z++
126.35
RODOS APP
Opr 0500-2000Z++, OT when pers avbl
118.25 
120.6 
122.1 
278.25
RDO
5637 
2989 
(5637 Opr 0400-1700Z++) (2989 Opr 1700-0400Z++)
Communications Remarks
 
TWR
Afct on VFR apch fr S-SE blw FL100 ctc APP due to ltd propagation on 118.2.
Runways:   
ID
(Click for details.)
Dimensions
Surface
PCN
ILS
07/25
10846 x 148 feet
3306 x 45 meters
ASPHALT
073FBXU
YES
Source: WorldAeroData.com
Take offs and Landings series: Follow it here!
The next video will be published on November 14, 2018.
The opportunity for you: send to us your flight video from all over the world. We will publish it! Please, write to info@flying-revue.cz.
-fr-