Take offs and landings 29: Zakynthos Airport, Greece, Europe       The twenty ninth video from the Take offs and landings videoseries shows landing and take off from Zakynthos Airport, Greece.

Greece, Zakynthos LGZA - Landing

Greece, Zakynthos LGZA - Departure
Zakynthos Airport (LGZA) -  landing and take off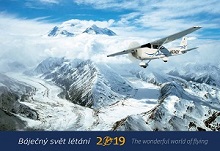 Wonderful world of flying 2019 - the calendar of aerial views on Earth. Alaska, USA, Australia, Europe ... all shot from the sky from a small plane.
You can buy it at e-shopu Flying Revue. Click here.

The island of Zakynthos is known from the ads of travel operators who like to show the picture of the sea bay with the shipwreck on its beach – called Shipwreck beach or Navagio. The attraction of Zakynthos for sport aircraft travelers is especially in its western coast with high rocky cliffs which lead up to Shipwreck beach. 
The airport of Zakynthos is a medium sized transport airport serving the island and its visitors. There is mandatory handling but if you're an AOPA member, the price is some 25 EUR only. AVGAS is available here. I landed here mainly to replace the batteries in my outside cameras but the stop was pleasant nevertheless. Runway 34/16 is a standard, concrete runway of a transport airprot. The ATC controllers at TWR and APP were friendly and facilitated my flight around the island. 
» Follow our other information for flying in Great Britain and visit our section Fly Europe.  
Take offs and landings video series Our new video series "Take offs and landings" will bring to you every Wednesday one video taken during a take off or landing during one of Flying Revue flight expeditions. Flying Revue expedition aircraft have landed already at more than 400 airports and airfields around the globe. For many reasons, not all our take offs and landings have been videoed. However, the number of videos which we have on file is permanently growing. So the new video series "Take offs and landings" is very well stocked. You can watch these videos free of charge either just for your interest or as part of preparations for your own flight to some of the airports shown in these series.

---
» Zakynthos Airport LGZA, Greece, Europe
» SkyVector.com          » Current traffic FR24.com         » Website
Source: Maps.google.com
General Info:
Country
Greece
ICAO ID
LGZA
Time
UTC+2(+3DT)
Latitude
37.750853
37° 45' 03.07" N
Longitude
20.884250
020° 53' 03.30" E
Elevation
15 feet
5 meters
Type
Civil
Magnetic Variation
003° E (01/06)
Beacon
Yes
Operating Agency
CIVIL GOVERNMENT, (LANDING FEES AND DIPLOMATIC CLEARANCE MAY BE REQUIRED)
Near City
Zakinthos
Operating Hours
SEE REMARKS FOR OPERATING HOURS OR COMMUNICATIONS FOR POSSIBLE HOURS
Daylight Saving Time
Last Sunday in March to last Sunday in October
Communication:  
TWR
125.425 
257.8 
122.1
RDO
5637 
2989 
(5637 Opr 0400-1700Z++) (2989 Opr 1700-0400Z++)
Runways:   
ID
(Click for details.)
Dimensions
Surface
PCN
ILS
16/34
7310 x 98 feet
2228 x 30 meters
ASPHALT
036FDXU
NO
Source: WorldAeroData.com
Take offs and Landings series: Follow it here!
The next video will be published on November 7, 2018.
The opportunity for you: send to us your flight video from all over the world. We will publish it! Please, write to info@flying-revue.cz.
-fr-