Take offs and landings 28: Tingwall Airport, Shetland Islands, Great Britain, Europe       The twenty seventh video from the Take offs and landings videoseries shows landing and take off from PlocTingwall Airport, Great Britain.

Great Britain, Tingwall EGET - Departure
Tingwall Airport (EGET) -  departure
The Orkneys and Shetlands are somewhat forgotten part of northern Europe. Both the archipelagoes enjoy a lot of history – the very old as well as the not so old. The Shetlands played an important role in WW1 and the Orkneys especially in WW2. To reach the Shetlands in your small plane you need to fly about one hour from the Orkneys or about two hours from Bergen in Norway. 
If you fly from the Orkneys, there is no need for customs/immigration which means that you can land at the domestic only Tingwall airport. The airport is not permanently attended and it is PPR. So you need to phone before you fly. I arrived there on Sunday noon and there was no traffic at all but the asphalt runway was in excellent condition. After having mounted my three cameras under the wings, I made an interesting circle around the main island. My landing as well as departure were uneventful but the airport as well as the island have made a very cozy impression in my mind.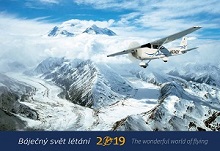 Wonderful world of flying 2019 - the calendar of aerial views on Earth. Alaska, USA, Australia, Europe ... all shot from the sky from a small plane.
You can buy it at e-shopu Flying Revue. Click here.

» Follow our other information for flying in Great Britain and visit our section Fly Europe.  
Take offs and landings video series Our new video series "Take offs and landings" will bring to you every Wednesday one video taken during a take off or landing during one of Flying Revue flight expeditions. Flying Revue expedition aircraft have landed already at more than 400 airports and airfields around the globe. For many reasons, not all our take offs and landings have been videoed. However, the number of videos which we have on file is permanently growing. So the new video series "Take offs and landings" is very well stocked. You can watch these videos free of charge either just for your interest or as part of preparations for your own flight to some of the airports shown in these series.

Take offs and Landings series: Follow it here!
The next video will be published on October 31, 2018.
The opportunity for you: send to us your flight video from all over the world. We will publish it! Please, write to info@flying-revue.cz.
---
» Tingwall Airport EGET, Velká Británie, Evropa
» AirportNavFinder          » Current traffic FR24.com         » Website
Source: Maps.google.com
General Info:
Country
United Kingdom
ICAO ID
EGET
Time
UTC 0 (+1DT)
Latitude
60.192079
60° 11' 31.48" N
Longitude
-1.243528
1° 14' 36.7" W
Elevation
43 feet
13 meters
Communication:  
Runways:   
ID
(Click for details.)
Dimensions
Surface
02/20
756 x 18m 
2482' x 59'ft
Asphalt
Source: AirportNavFinder.com
-fr-