PhotoStories 9.        Each of photographs has its own story. Especially the one you get from the plane. We offer to you a new series of PhotoStories taken by the USA 2016 expediton. Today story of the Point Arena Lighthouse photo. 
The wild and beautiful West Coast is well known for the number of lighthouses which are scattered on its approximately 1500 miles. During our flight "Around the USA" we actually covered all of them – be it on the territory of California, Oregon or Washington.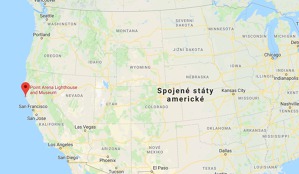 Most of them are also visible from the famous Highwany No. 1 which leads alongside the West Coast. Each of the lighthouses has a somewhat different history, architecture as well as equipment. However, interesting and impressive are most of them.
The Point Arena Lighthouse is located North of San Francisco. It is about 120 feet high so it is of one of the tallest lighthouses on the Californian part of the West Coast. 
Jiří Pruša
All about the USA 2016 Expedition you can follow here: 
The USA 2016 Expedition took place at August and September 2016. We flew Cessna 182 and we started from Orlando North Aipark in Florida, continued to California and then to the north. Across the Canadian and US borders we flew to the Atlantic coast. Then we headed south where we finished the expedition - again in Florida. All about the expedition you can find on the USA 2016 website (only in czech).