Extreme Airport 2: Gibraltar    Our second article about the VFR landings at extreme airports will take you to an airport hidden behind the famous "Rock" of Gibraltar. Welcome to Europe's southernmost continental airport.
Airport Specifics 
Gibraltar airport is managed by the British Army. We included this airport on our Top 10 Extreme Airports list mainly thanks to a constant wind that blows over the Gibraltar Rock which creates strong turbulences. Aicraft are often caught in turbulent cross wind which can make any landings quite challenging. 
Gibraltar Airport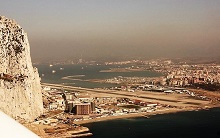 - Name: Gibraltar International Airport
- ICAO: LXGB, IATA: GIB
- Category: Internatinal controlled airport
- Rwy: 09/27, asphalt, 1780x46m
- APP: 122.80 MHz
- Where is: The southern edge of the Pyrenean peninsula, N36 9.07, W5 20.98, nadm. v. 5 m n.m.
- Landing: Full stop landing (květen 2015)
- Plane: Dynamic WT-9, im. OK-LEX
Studying the landing technique ahead of time is essential at any airport, as well as closely monitoring the strength and direction of the wind. Anytime there's a side turbulent wind I land at a higher speed using smaller flaps. This gives me better control over the aircraft till touchdown. I got lucky while landing in Gibraltar since the cross wind wasn't as strong. 
Landing 
Preparation
British Army authorization is required for civilian aircraft to land at Gibraltar. This authorization must be requested at least 48 hours in advance. You also have to arrange for handling which is mandatory here. There is no Avgas available here so you must plan accordingly to make sure you have enough fuel to reach your next destination. 
You also need to take into consideration there's a no-fly military zone around Gibraltar which was probably created by the Spanish due to the Spanish-British conflict over Gibraltar. Approach to Gibraltar Airport is therefore possible from the water side only. It made no difference in my case as I was flying from that direction anyway, but it can create certain difficulties if you were to approach from the mainland.  It'd at least cost you extra time and fuel.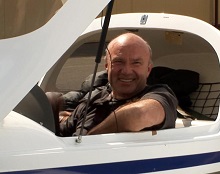 > Europe: Madeira (Atlantic) - April 2014, Barra (Scotland) – June 2014, Gibraltar (Pyrenees Peninsula) – April 2015, Courchevel (Savoy Alps) - October 2016
> The Caribbean: Princess Juliana Airport (Sint Maarten) - March 2016, - Saint Barthélemy (Saint Barthélemy) - March 2016
> USA: Wales Airport (Alaska) - May 2017
Is a special license needed to land at Gibraltar airport?
No but I recommend to read on experiences of other pilots as well as study information about the airport.
Where were you coming from?
I was flying from Marrakech, Morocco.
Weather
The weather was good, there was mild southwest wind so the turbulence was manageable. 
Approach 
The airport is controlled by British military dispatchers; the officer who directed me was very calm and had very professional conduct. I was on left base of runway 27 and the controller even asked me whether my undercarriage was deployed. 
Landing Permit
It was not a problem to obtain as I requested it in the required 48 hour window in advance. It was however necessary to land within my assigned slot. I was given a grace period of 30 minutes prior and after, which turned out to be a problem for me as the dispatchers at my airport of departure - Marrakech kept me waiting for about an hour for an unknown reasons. So I had some explaning to do while coming over to land in Gibraltar. But they let me land at last. 
What to watch out for
Take-off and Landing Specifics 
Examples of TOP 10 lists of most challenging airports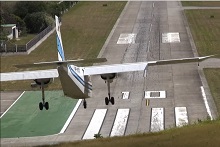 - www.popularmechanics.com
- www.wonderslist.com
- www.therichest.com
- www.dailynewsdig.com

The complexity of the landing depends, as always, on the strength and direction of the wind.  One thing I found very interesting here was the fact that they had to close the cross-road that led to the runway. So had to wait for the take off clearance until the gate was down.  
I made a full stop landing when I first arrived from Morocco. I wished to photograph the Rock and record my flight around it as well as over the runway and the cross-road so I asked for a permission to fly around the Gibraltar Rock and do a low pass over the runway. 
Class of communication with staff, bureaucracy
Everything was perfect, bureaucracy was standard. The military controllers were very friendly; they granted me a permission to fly around, which they certainly didn't have to. Services were exemplary at a reasonable price. The only problem was that they did not have Avgas there.
How do you rate this airport on your TOP 10 J.P. list?
Given that I landed in good weather, I'd say 5th place with 1st place being the most challenging.
Overall Rating
Gibraltar can be very treacherous when there is stronger wind. I can't complain as I got lucky when it comes to weather. Navigation to the circuit could be more complicated when approaching from the mainland. You must definitely consider the direction and strength of the wind, and have enough fuel.
Would you do it again?
It was definitely worth it, and I hope I'll come back at some point.
Jiri Prusa, Jan Dvorak