Alaska Expedition - Interview   It's unlikely that many Czech pilots have seen the Bering Strait, a place where Asia and America meet. Jiri Prusa included this wonderful experience in his portfolio of interesting flights during his Alaska expedition. 
Flying Revue: Bering Strait was one of the highlights of the Alaska expedition in 2017.
Jiri Prusa: No doubt. It was a very special experience for me. Bering Strait is one of the Earth's absolute places. It connects Asia and America as we all learnt in geography lessons, but hardly anyone has been there personally. Moreover, there is a date borderline here; at the time of my flight there was 11am on the 22nd of May on the American side, on Little Diomede island, and at the same time there was also 11am on the Russian side, on Ratman's Island (Grand Diomede which is only 3 kilometers away from Little Diomede), but the calendar read May 23rd, one day ahead.

Alaska 2017 Expedition, Flight through Bering StraitThe flight itself corresponded to the place; there is USA military zone ADIZ, and there is also the USA and Russian border, which I was not authorized to fly over. A harsh cold wind with snow didn't make the flight any easier, and there were plenty of floes floating in the water beneath me, which left no doubt about the water temperature. I have this magical place captured on videos and in pictures. 
FR: How do you rate the expedition as a whole? 
JP: Two main goals have been accomplished: to fly around and photograph the highest mountain of North America, Denali as well as reaching the Bering Strait. I'm a little sad I couldn't get a bit further to fly over Aleutian Islands, but the weather was harsh, so I could not do that. I'm happy for what I accomplished.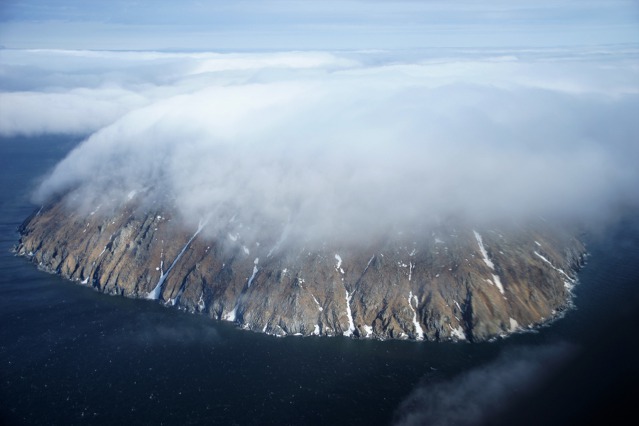 Little Diomede, USA
FR: You are here basically at the end of the world ...
JP: There is a big difference between northern Alaska (Nome, Unalakleet, etc.) and Alaska's southern parts. These are much more civilized. In the North, most people must provide for themselves, there is a lot of fishing and hunting, etc.; in the South there is a lifestyle close to ours. 
Transportation seems to be the main problem. There are few people living in Alaska and there are high mountains where roads cannot be built, or it wouldn't be cost effective to build them, so many coastal cities have no connections to the rest of the world except for by sea for a couple of months in the year, and air transport. Otherwise, everything is the same as in continental US, but it is much more expensive here, fuel in the orth, accommodation and food in all of Alaska.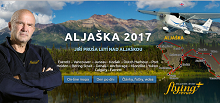 Route: Everett – Port Hardy – Juneau – Yakutat – Cordova – Talkeetna - Kodiak – Bethel – Unalakleet – Wales – Nome – Unalakleet – Homer – Valdez – Yakutat – Juneau – Skagway – Whitehorse – Dawson City – Prince George – Jasper – Kelowna – Pemberton – Kelowna – Vancouver – Bellingham – Everett
Start/End: Paine Field Snohomish County Airport, Everett (IATA: PAE, ICAO: KPAE)
Beginning date: 17. 5. 2017
End date: 1. 6. 2017
Length: 15,000 km
Flight time: 70 flight hours
Airplane: Cessna 172 N6342X
Crew: Jiri Prusa
Website: Alaska 2017
Organized: Flying Revue - Aviation web and magazine

FR: How about fuel availability?
JP: It is always necessary to check which airport has fuel available as most airports, or rather runways, do not. So, it's good to plan. Except one place, Bethel, where they wouldn't sell fuel on Sundays although they had it, the information was always reliable, and I was able to refuel. To avoid possible problems, I filled up the tank wherever I could. 
FR: You always find a place to stay only upon your arrival so that you have the flexibility to decide where you'd like to land. Was there ever a situation you'd have to sleep in your plane?
JP: No, finding accommodation has never been a problem. I usually have breakfast with my stay, so I do not starve, and then I eat from my food supplies that I have on board. I usually do not have time nor thoughts to go to restaurants or shops.
One problem that I face are my own thoughts in my head, and a lot of work after landing and before departure. When I finally get to bed around 11pm, I usually fall asleep quick, but my thoughts for the next flight wake me up around 3am, I also start thinking of what I could have done better yesterday or what things need my attention back in Prague. So, I was sleeping around four hours a day, but the adrenaline from the expedition was able to compensate for it. 
FR: How was the quality of the internet connection?
JP: It was better than I had expected. One problem was in Unalakleet, I could not upload videos and photos as the landlord had a limited connection. But overall it was good, it was sometimes worse in Australia. I was able to call via Skype from every point of this expedition, and that's very important to me because I like to stay in touch with my family and colleagues.  
FR: What about Alaska airports - quality of the runways, communication, services, fees?
JP: It is very different. There are lots of small rural airports or, more specifically, gravel runways, where there is nothing except for the runway. I used these for three of my landings. It is not very pleasant, because if the plane is not equipped with "bush" tires, traction is very poor, and the plane tends to skid.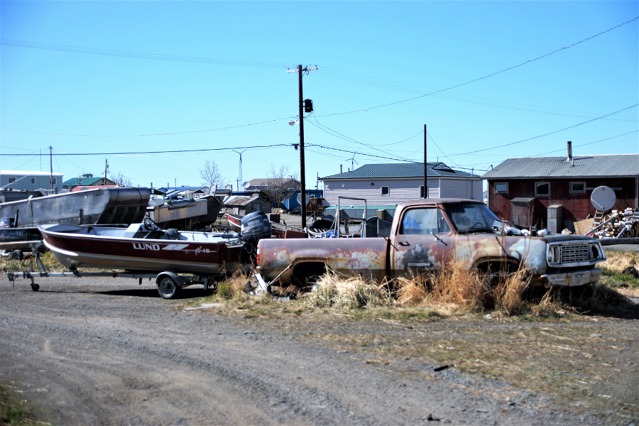 Unalakleet resembles Siberian villages.
So, I could only land at airports with asphalt or concrete runways. There was plenty of those as well so that was not an issue. There was not much communication during the flight, rather just at airports when approaching and landing. Communication is very standard and rather simple. There are no separate airport charges in the USA, they are included in the fuel tax, even though fuel is about half the price compared to Europe. 
FR: Did you experience any difficult landings?
JP: Alaska is very windy and that sometime makes the landings interesting. All three landings on the gravel runway were unusual; one had a very soft surface at the threshold of the runway, so I got stuck in it while turning; one was downhill, and I had difficulties to come to a stop in the gravel. Another was partly downwind, which prolonged the braking distance.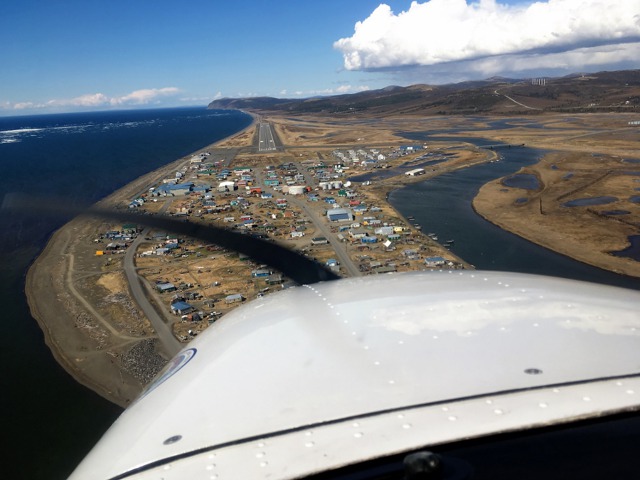 Approach to Unalakleet airport.
FR: What was your experience with the people at the airports?
JP: They did not talk much, they provided services I needed, usually refuel only, and they mind their own business. That's also why I have only few photos of "Flying Revue" readers. There was a very pleasant lady in Cordova, a meteorologist, who gave me some materials about the area, and she also took me to a hotel. 
FR: There is no autopilot in the Cessna 172 that you were using. How were you taking pictures? 
JP: Yes, I had to work out a special technique. I managed to unlock both windows and I learned how to open both while piloting; the right window was a challenge as I still had to control the aircraft, but I learned how to do that, too. As every professional photographer knows you can't get great pictures through a window. I placed the outdoor video camera near the left window, so I could turn it off and on again manually. This has dramatically improved my ability to shoot all the interesting parts of the flight and not waste the battery and the capacity of the memory card on the less interesting parts. 
I also got used to operating the camera with one hand while steering with the other. The only problem I had was that in a 4 or 5-hour flight, my left hand was starting to hurt, as it was in the same rigid position for the entire time since I had no autopilot.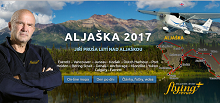 Sledujte let Jiřího Pruši na on-line mapě ve speciálu Aljaška 2017. Denně zde najdete také nové fotografie, videa a deníkové zápisky z expedice.
FR: How much did you have to change the planned route?
JP: I was not usually changing the route during flight. But in the evening before the flight, I adjusted the plan for the next stage based on the weather forecast. If I did not do that, I would probably not get to many places, or I would be forced to fly low in fog or rain.
I had to avoid active military space during my last flight. It is legal in the USA to fly over it, but my self-preservation instinct prevented me from doing so. 
FR: Did you have any adrenalin experiences during this expedition?
JP: Yes, I was running out of fuel during my flight from Bethel to Unalakleet. Although I had the opportunity to land on several runways in the tundra, I wasn't very clear how would I get out of there without fuel. But everything went well; I used the thermals in relatively hot weather of the day. In the end, I made it to the airport with a mandatory fuel supply for 30 minutes of flight, but it was not so clear I'd make the whole journey, especially during the first two thirds of the trip on this 400-kilometer-long route with the headwind and above the mountains. 
FR: What about ice on the wings? You flew at subzero temperatures.
JP: Yes, that was a bit scary a couple of times when there were heavy humid clouds. So, I did my best to be as far away from the clouds at lower temperatures. 
Jan Dvořák