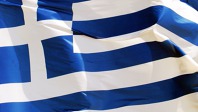 Latest revision September 2, 2019
Basic information:
| | |
| --- | --- |
| Entry:  | Even though Greece is part of the Schengen area, all international flights – including those from Schengen – must first land at an international airport and clear the customs/immigration. Also, when leaving Greece, you need to do so from an international airport and clear customs/immigration. |
| FPL: | A flight plan must be filed for any flight to/from and/or within Greece. An FPL for over-the-sea flights needs to use IFR points over the sea. |
| Microlights: | Whether permission is required for microlights or not is not yet clear. According to the information available to us, a regulation to govern this issue is in the making. AOPA Greece information (see Other links below) says only that microlight pilots cannot fly with a PPL licence but need a microlight licence issued by their country. However, only EU licences are recognised. |
Useful links: 
CAA
www.ypa.gr - CAA Greece website showing information for individual Greek airports
ATC
www.ypa.gr/en/
AIP 
www.ypa.gr/en/aip - Free AIP download after registration
Meteo
www.poseidon.hcmr.gr - very good Greek nautical weather forecasts
Other links
www.aopa.gr/en/flying-in-greece - AOPA Greece website with excellent information concerning VFR flying in Greece
www.hellasga.com/ - website of Greek GA Association. You can find interesting information here concerning VFR flying in Greece. You can also access a free VFR chart of TMA Athens with all the VFR navigation points here.
Interesting publications:
| | |
| --- | --- |
|  Do you know of any? . Thank you! |   |
Greek flying experience:
Handling is compulsory at all Greek airports where available. Cost is usually around 100 EUR. At government owned airports This is reduced to about 25-40 EUR for AOPA members. So, if you fly to Greece, you should become an AOPA member and have your membership card with you. The biggest problem in Greece is fuel (un)availability. Therefore, plan your flight route keeping refuelling in mind. 
Do you have any experience? . Thank you! 
Disclaimer:
While we do our utmost to ensure that all the information on our website is correct and accurate, we cannot take responsibility for any irregularities, deviations or changes that are not correctly shown on our website or are not shown in a timely manner. The only authoritative source of information is the AIP and other legal/regulatory documents of each country. The regulatory information shown on our webiste is therefore just for your guidance. For your comments or suggestions please write to . Thank you!