A plane that's allowed on the roads        Desire to fly is as old as humanity itself, desire to have a flying automobile is just a little bit younger than the history of flying but no less intense. It is thanks to gyroplane enthusiasts from Moravia that this dream is currently becoming a reality, and based on all things considered, it is them who built and homologized a machine, first of its kind in the world, which has been approved for flying as well as driving on surface roads.
Any similar known projects are more of those of flying automobiles.
The most-known such project in the Czech Republic is most likely Slovakian AeroMobil, which also can ride on roads as well as take off and fly.
And don't forget the well-known project of flying automobile Terrafugia Transition in the USA.
Both these projects are however in the initial phases of operational prototypes.

They call it GyroMotion, and unlike any regular gyroplane, it has one special characteristic which brings the possibilities of this machine even further - it has been approved to ride on roads in March, 2017. "Although it's only one piece so far, a prototype, it is true. This airplane is legal to drive on the road now, and we are very excited about it," said the mastermind behind GyroMotion Pavel Brezina of Nirvana, a Prerov based company which assembles gyroplanes.

Based on the information available, they were the first in the world to receive a certification for operating a single vehicle in the air as well as on the road in regular traffic. "We have obtained a patent, and we were unable to find out about any other vehicle that was authorized to fly and drive on roads from neither the Patent Agency nor any other source. Therefore, we dare to say that we are first in the world who own a single vehicle approved for both types of operation, land and air," says Pavel Brezina.

How to fly and ride gyroplane. Credit: Nirvana Autogyro
You can make sure by having a look at the license plate and the registration documents in the video and our photo gallery if you still don't believe us. Prague citizens could have spotted this gyroplane bearing a registration B02 8888 in regular traffic on Monday, March 13, 2017. "It was quite spontaneous. I had planned to fly to Prague for a radio interview about gyroplanes, to land at Letnany airport and take the underground tube (subway) to the city center just like everyone else," says Brezina.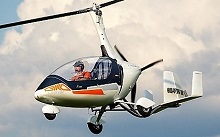 Flight
Name: GyroMotion
Category: ULL, vírník
Types: Cavalon, Calidus, MTO Sport
LengthxWidthxHeight: 5,1mx1,9mx2,8m
Rotor diameter: 8,4 m
MTOW: 560 kg
Engine: Rotax 912/914
Cruising speed: 160 km/h
Max. speed: 185 km/h
Endurance: 5 hours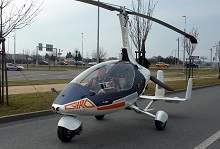 Ride
Brakes: Disc on back wheels – hydraulic, mechanic park brake
Electroengine
Engine power: 3 kW Peak 12kW
Max. gyroscopic momentum: 150 Nm
Source: Lion battery 1,8 kWh
Range: 20 km
Max. ascension: 10%
Max. speed: 40 km/h
Hybrid power
Max. gyroscopic momentum: 150 Nm
Source: none
Range: unlimited
Max. ascension: 10%
Max. speed: 40 km/h
Manufacturer: AGN systems, ltd., Prerov
Website: www.gyromotion.eu www.autogyro.cz

World premiere: 5. 4. 2017 AERO Friedrichshafen 2017, hall B2, stand 319

But then, only few days before his trip and after three years of preparations and endorsements, came the official approval – Pavel Brezina obtained the registration documents along with the license plate for the road gyroplane now, so his old dream came back to life: "I just wanted to use my gyroplane to go and enjoy a cup of coffee at Wenceslas Square."
However, in Pavel Brezina's world it doesn't take long from idea to action as his three-year-old dream became a reality as the pioneer of gyroplane aviation in the Czech Republic indeed made his way from Letnany to downtown Prague, all on surface roads. He ordered his long dreamt-about cup of coffee at a local coffee shop at Wenceslas Square, while his gyroplane was parked on the street.  
The difference between GyroMotion and a regular gyroplane is that GyroMotion has an electric engine mounted behind the front wheel which powers the vehicle on the road. Although GyroMotion reaches the speed of 60 km per hour, the maximum speed on the road is limited to 40 km per hour by the authorities. The reason behind it is simple: GyroMotion´s directionally controlled by pedal brakes and to safely do so, it must not reach a speed over 40 km per hour. This also means GyroMotion may not ride on roads where the minimum speed is set to 40 km per hour.  

So why gyroplane on the road you might ask? "My idea is very simple - gyroplane doesn't require a runway to land or take off, unlike a regular airplane, it only needs a solid surface that is in accordance with the rules for landing *, and then it can get to wherever it needs to go from there, such as to refuel or park for the night," explains Pavel Brezina. And thanks to this the potential of gyroplane as lightweight and unpretending airplane raises dramatically - it is capable of landing on rural roads or a green field, it only needs a perimeter of 50 meters; it may require a bit longer distance to take off depending on the power of the engine.  
Pavel Brezina believes the approval for use on surface roads brings new possibilities for both gyroplanes as well as their owners, and that the number of gyroplane pilots is soon going to multiply from current several dozens to many more. Brezina thinks that gyroplane is indeed an ideal means of transportation for innovative journeys for both purposes, to explore new horizons and to have fun.
That's also why Brezina plans to build a database of landing points which would appear in a map application for tablets and smartphones. "The gyroplane symbol would show that it is safe to land and take off in that specific point, and that landing is approved by the owner of the property, "says Brezina. The database would be growing and Brezina counts on the community of gyroplane pilots negotiating with property owners while thinking about future use by other members of the gyroplane world.
Brezina would eventually like to install web cameras at selected landing places so the pilot can be sure landing in his chosen spot is possible, both while planning his trip and during the trip itself. This would help to ensure that bad weather would not be a factor, for example. If everything is in order, he'd input the spot into the flight application and the journey could begin.
In theory, if you purchase a gyroplane, you can park it at home. And if there is a suitable place for takeoff and landing within a reasonable distance, you simply board your gyroplane right in front of your house and drive to the takeoff/landing spot, and then fly wherever you wish – alone, with your spouse or with a group of friends. Gyroplane reaches a speed around 160 km per hour, which you may think is not fast enough, but you fly direct, you don't need to dodge traffic, bear with road closures. So, if there are no airspace restrictions that would make you to fly around, you can make it from Prague to Vienna in less than 2 hours, and 2,5 hours to High Tatra Mountains. Although it is little father to the northernmost point of Europe - Nordkapp, Pavel had already taken his gyroplane there.

Pavel Brezina as a guest of the main Czech Radio (only in czech). Credit: Cro.cz
However, there is still a long way the Prerov enthusiasts must go before the "road" gyroplane would be available. There is an approved prototype so far, but only a higher version would go into mass production. In the new version, the electroengine that powers the gyroplane won't be placed behind the front wheel but at the back instead. More accurately, the power would be hybrid. The electroengine will be able to be used in combination with the gas engine which powers the propeller during the flight. The back-wheel engine will weigh around 10 kg, the whole system 20 kg. "It doesn't make a difference if I am flying with GyroMotion or a regular gyroplane and you won't be even able to tell the difference. The engine is placed in the center of gravity and it will also compensate for the gyroscopic moment, " Pavel Brezina explains.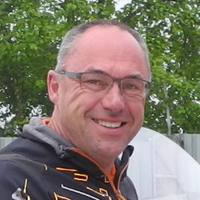 Creater of GyroMotion Pavel Brezina. Credit: FlyWayOf course, the rotor must be secured, covered and marked with reflective tape as well. The Gyroplane is equipped with lights, brake lights and turn signals; however reverse light, fog lights or wipers are not mandatory. 
There are about four thousands of gyroplanes in the world nowadays, and the road-operation system can be added to those already operating as well as new ones. This addition will raise the price of the machines. "Although I still am not able to say the exact amount, it would be an increase of about one third of the price. But it will be an optional equipment, so whoever wants the basic gyroplane gets the basic one," says Brezina. Nirvana, the Prerov-based company AGN systems, Limited will fit these additions to all three types of gyroplanes that it currently produces, Calidus, Cavalon and MTO Sport.
GyroMotion's was first shown internationally at AERO 2017, the aero salon of general aviation in Friedrichshafen, Germany, in April 2017.