European Islands from above      In our videoseries European Islands from above we want to offer you Islands of Mediterranean See filmed from small plane. Today fifth part of it. 

Mediterranean Islands part 5
Returning from Mediterranean sea back to Central Europe via Lido-Venice airfield is probably the best choice. Lido has only a grass runway but very impressive historical terminal. Also, you can refuel here and get a decent snack.
Then you fly about half an hour over the beaches and coast until you get to the TMA of Trieste Ronchi airport. Within the next 20 or so minutes of flight you have to climb to some 10.000 feet in order to clear the tops of the mountain peaks.
Flying over the Alps is a wonderful experience as long as the weather is fine like it was during the flight captured on this video. When the weather gets difficult it is a wholly different story. So if you plan flying over the Alps, pay full attention to the meteo forecast…
Our expedition over the Mediterranean Islands ended at our home airport of Příbram about two hours after departure from Lido Airfield.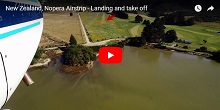 We have a new flight video for you on every Friday. Today the last part of a new series European Islands from above.

All our flight videos you can follow here.

The opportunity for you: send to us your flight video from all over the world. We will publish it! Please, write to info@flying-revue.cz.
Flying Revue expedition videos
We have been flying our expeditions over interesting places of our planet for already 5 years. Over that period we have managed fly over, take photos and film videos of interesting places in Europe, USA including Alaska, Canada,  Carribean Islands, Africa, Australia and New Zealand. We usually have three outside cameras mounted on the expedition aircraft. Photos are taken with one photo camera through open windows from inside the cabin. After each expedition, the videos are edited, captions added and a series of 6-10 minute videos are made from each expedition. These are then used in our presentations to pilots as well as general public. The objective being to promote aviation and present the beauty of the world from above.
The videos from older flight expeditions have not been, so far, shown on Flying Revue website and we would like to correct this now. We therefore introduce a new series "The world from above with Flying Revue" which will feature all our videos made during all of our previous expeditions. Some of these are still in a graphic format which we had been using earlier but that should not reduce the beauty of seeing the world from the air. A new video will regularly be introduced every Friday. The first part of the new series "The world from above with Flying Revue" will feature expeditions flown over European Islands. 
-fr-