Australia: Interview by Jan Dvorak   
Cessna 182 and Ayers Rock, Cape York, Sydney, Melbourne, Gulf of Carpentaria, and endless, hundreds of kilometers long deserted beaches, flying for hours and hours above the infinite dusty landscape with equally endless, perfectly straight railroad in the middle. All this and much more is Australia from above. Find details on Jiri Prusa's interesting fligh expedition over Australia.  
Jiri, were your expectations, both expedition and Australia itself, fulfilled?
Yes, I managed to mee all my goals. The weather was great (it only started raining on my last day) and the plane flew without any problem so there was nothing more to wish for. 
Route: Camden – Melbourne – Adelaide - Ayers Rock – Perth – Darwin – Cairns – Brisbane – Sydney – Camden
Origin and Destination: Camden (YSCN)
Start: February 11, 2017
End: February 28, 2017
Length: 18,000 km/10,000 nautical miles
Flight time: 90 flight hours
Fuel consumption:: 4,500 litres
Aircraft: Cessna 182, VH-SDN
Crew: Jiri Prusa, Ian Fraser
Website: Australia 2017
Organized by: Flying Revue

What was the most exciting experience during your expedition?
First, Lake Eyre - the endless, beautiful white space. I cannot explain it in words but if you fly over it, it's amazing. Then, Port of Sydney, Harbour Bridge, and Opera House, of course. The beauty beneath me combined with joy that I had managed to fly around all of Australia and return to the same spot which I had left some three weeks before was great. One of the highlights of the expedition was undoubtedly when I flew over Ayers Rock. I had been dreaming about that for several years. 
What disappointed you?
Nothing from the nature point of view disappointed me. I was surprised, though, that there were problems at some airports with availability of aviation fuel. 
What was the most difficult part of your expedition?
Ground logistics - often accommodation and transportation from and to the airport. But my flight partner Ian took care of it, so it didn't bother me much ... :-) 
What about Australian airports?
No issues there. There was practically no contact with anyone at uncontrolled airports, as there is no administration. The Australian system uses cameras that automatically capture a picture of the aircraft and issue an invoice sent to the aircraft owner. Therefore, I did not have to fill out any forms. Everything was as usual at controlled airports but without the administrative work we are used to in Europe. 

Celou expedici den po dni včetně videí, fotek a deníku najdete v našem speciálu Austrálie 2017.
Can you compare this expedition to your USA trip?
The duration of my expedition over Australia was about 10 flight hours shorter. This corresponds to the fact that the USA is slightly larger. 
There was more of "spectacular attractions" in the US, but I saw the infinity of unoccupied space in Australia, and that is a great experience in itself. Flying is cheaper and simpler in the USA as there are no airport charges, and Avgas and aircraft rental are cheaper by some 40%.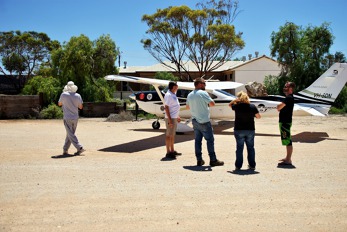 Naše Cessna na letišti Forrest uprostřed polopouště na jih od Ayers Rock. Letiště je v podstatě náves vesnice, ve které žije 10 stálých obyvatel. Desítky fotek a videí z expedice najdete na webu Austrálie 2017 (viz baner nad touto fotkou) Foto: Jiří Pruša
There is no need to file flight plans in the USA nor Australia; however, it is better to fileone if you plan to fly into a controlled area in Australia. 
Airports in both, Australia and the US, are all at a good standard level. In Australia, however, it is a problem to get Avgas at times because there is only one supplier (BP, Esso, Shell, etc.) and they often only accept their cards and do not accept regular credit cards. That became a rather a big problem for us in Western Australia since we only had Esso and Shell cards, not BP cards which proved to be the only card accepted at airports of Western Australia. The only way around it was for us to find someone who pay with his/her CC and compensate them in cash.
Australia also has a lot of back country runways with no one there. We landed on some of these after a long flight, and it was ok. You might need to obtain a permission beforehand in some though, but this is the same at some of the US airfields.

Coconut Island and Cape York, the northernmost point of Australia
Otherwise, a pilot can appreciate that there is no administration, there is no need to file a FPL, and there is a very good navigation app called AvPlan.
What would you advise to pilots who would like to fly here?
I'd say buy the AvPlan app, which not only works well, but it also has a database of all airports, regulations and special procedures (for example, for national parks, cities such as Sydney, etc.). Also, it is necessary to pay attention to which airports a PPR is needed for landing (Prior Permission Required). And finally, always get familiar with the airport information and consider whether you can get fuel there (who the supplier is, what kind of payment is accepted, what times are they open, etc.)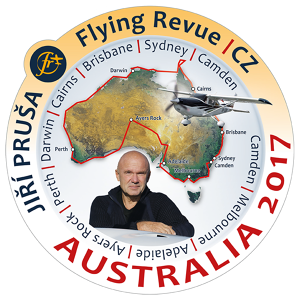 Logo expedice.
I was lucky I found the Airborne Aviation flight school. It is run very professionally by Nick Caines, a B777 pilot, so he's a professional in every aspect. Nick helped me greatly with organizing validation of my PPL for Australia and with obtaining security clearance from the Civil Aviation Authority. Nick and/or someone from his team also helped me a couple of times during my trip with filing of the flight plan where I needed one due to the planned overflight of bigger cities (Darwin, Cairns ...).
What is the difference between a check ride carried out in Australia and in the USA?
The check ride instructors in general need to see that you have enough confidence to pilot an aircraft in different flight modes - pre-flight operations, taxiing, communication, take-off, entry into to the circuit, flight at stall speed, stall prevention, etc. In addition to this, the instructor in Australia wanted me to prove that I know how to communicate at uncontrolled/non-towered airports. This is probably because a lot of airports are uncontrolled or even unmanned.  "Self-reporting" is therefore important. I have never been asked to demonstrate this ability in the USA.  
See webistes of our other expeditions: USA, Sahara, North Sea Island, Carribean aj. Here you are.


How did you get on with Ian, your flight partner in Australia?
Ian, like me, is also a little bit of an introvert, so we did not talk much during the flight. At times, he handed me a Musli snack stick and that was about it. Often, we were also speechless at the beauty below us. I was glad Ian was flying with me as the ground logistics was more demanding than anywhere else I'd been before, and he looked after accommodation as well as fuel and food supplies wonderfully.
Before the expedition you were concerned about possibly having to sleep in areas with poisonous creepy-crawlies…
Yes, in the end I was happy that we didn't have to use our sleeping bags. 
What about other types of danger, did you experience any?
We passed three-hour flight over the water with our life jackets on, but everything went well. I had to avoid two storms on the way, but nothing more serious. 
What are your plans for future expeditions?
The world is big and I want to fly over all of it. Now I dream about Alaska…
Jan Dvorak