Alps from above 5 (video)     The video series Flying Revue Alps from above continues. Today we fly over Mont Blanc Massif one more - in Summer.  

Alps from above 2017, day 1
Similarly to our flying over the Alps in the Winter, our flying in the Summer was unforgettable. The same as in the previous winter we departed towards Mont Blanc Massif from the airport of Aosta located in Aosta valley.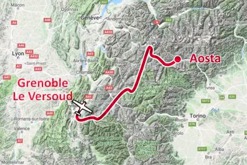 First day of summer expedition Alps from above: Aosta - Mont Blanc - Grenoble Le Versoud
Soaring over Mont Blanc was quite bumpy but the views of the Alpine peaks were fascinating. The Summer look of the Mont Blanc glaciers is somewhat sad as it is visible that thanks to global warming they have lost a lot of their mass.
The video also shows the three famous altiports – Courchevel, Meribel and Alp d´Huez. The flight ended at the sport airport of Le Versoud near Grenoble. In the next part you will fly with us from Le Versoud towards Friedrichshafen in Germany.