Alps from above 4 (video)     The video series Flying Revue Alps from above continues. Today part 4 - follow the flight over Mont Blanc, Matterhorn etc.  

Alpy 2015, den 4. (c) Flying Revue 2019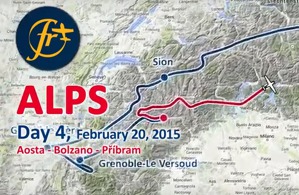 Čtvrtý letový den expedice Alpy 2015.
In today´s video you can see the most impressive scenery of the Alps – massif Mont Blanc, Matterhorn, St Bernard pass, some more impressive Alpine mountains and the Italian airport of Bolzano.
In case you would like to fly around Mont Blanc yourself then Aosta is probably the best point of departure. Fuel is available here, the airport is quite friendly, low airport fees and no restrictions on the way to Mont Blanc. You just need to climb some 3500 metres between Aosta and Mont Blanc which are about 30 km apart. 
Flying around Mont Blanc can get a bit bumpy given that the often strong winds get broken up by the high mountains. When you have enough of flying in the Mont Blanc area, you can just continue to the East on the southern side of the Alps to Bolzano. This routing will offer you an unforgettable Alpine panorama. At Bolzano airport you can get fuel, snack, rest and then you can continue wherever you plan to. We flew back to Czech Republic which is only about 2 hours (200 km/h) away from Bolzano.
Day 4 was our last day of flying over wintery Alps. The air distances are not so great so we managed to fly over Italy, France, Switzerland, Austria and Czech Republic in just one day. 
-fr-